Rev. Goat Carson holds up his and Kinky Friedman's Texas Monthly article during the Krewe of O.A.K.'s Midsummer Mardi Gras. Last week I missed his
Shallow Graves
signing, as every New Orleans obligation seems to end in a series of detours, but wish Goat and Kinky well on their upcoming book tour.
O.A.K., appropriately enough, stands for Outrageous and Kinky.
Goat's the first person who put me up in a cot on my first visit to New Orleans, and he's been staying on and off at Kinky's ranch, Levon Helms' cabin and points unknown ever since evacuating.
In a perfect example of the chaos in communicating two summers ago, when Kinky told Rev. Goat there were 24 greyhounds coming to the rescue ranch, he thought that meant a convoy of Greyhound Buses instead of dogs and wanted to round up riders.
Goat's "Lost You In the Waterfall" is one of the poignant tunes on the
(DOWNLOADS)
Click on his image below for our photo page with more from the New Orleans Musicians Relief Fund's Carrolton Station Download Celebration, Midsummer Mardi Gras, Jake's 8/29 Speech, the Fords' Open House with food from Bacco, and a donated brass band van.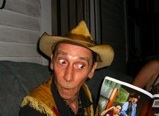 http://web.mac.com/nomrf/iWeb/NOMRF/NOMRF%20Redefine829.html