Reprinted from the Huffington Post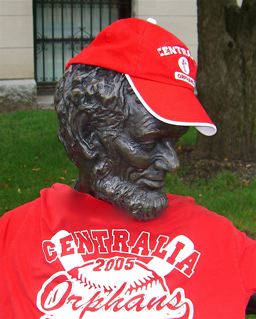 "O-r-p-h-a-n-s Orphans, Orphans we're the best. Go Orphans!"

That was my high school basketball team's cheer. We were the Orphans. To prove it, here's Lincoln dressed in festive Orphan gear for the Fourth of July. As legend goes, during the Depression our mining town's basketball team made do with donated uniforms, mismatched and ill fitting. Someone said we looked like a bunch of orphans and it stuck. redhat.jpg

Growing up an Orphan may have made me less reticent about asking for the refugee rate. In the early days after the levees blew, my husband was playing a benefit for his bandmates displaced in Boston -- they have two teenage boys with muscular dystrophy and were trying to survive after evacuating across the country. We drove from Illinois to help.

With time on my hands during his rehearsal, I called Martha's Vineyard which on the map seemed like a short drive from Boston, and asked for the refugee discount. After the resort owner considered what that would be, she offered two nights at no charge and we headed down to the island after the benefit. Plum TV invited us to go on the air and talk about the New Orleans Musicians Relief Fund. It seemed like a reasonable place for fund-raising so we headed south with my husband's replacement guitar.

I sang "It's Raining," not nearly as well as Irma Thomas, showed photos of the city and when the cable show's host asked when we were going home, Jeff and I looked at each other on camera and started discussing it. We still don't know. Musicians call to talk about the factors involved in going home, and the ones who are back call to talk about what's involved in staying. Rising rent, safety, education, whether the rest of the band is back, a spouse's job, tourism, Road Home grants, insurance settlements, the factors are constantly evolving. NOMRF has given out hundreds of grants, but donor fatigue is obvious and we're shaking the same old bucket as the two-year Anti-Versary of 8/29 approaches.

As far as saving the city's culture, ". . . It is not permissible to watch its destruction, and to replace it with nothing, or by so little that a whole people deteriorates, physically and morally," Alan Paton wrote in Cry the Beloved Country. He wrote it about changing Johannesburg and having seen both cities, the book resonates.

The 100th murder this year has been committed. Drummer Dinerral Shaver's alleged killer was set free when no one would testify against the teenage boy who was accused of shooting into his car, killing Dinerral as his family watched him die. His young son sometimes sits in with the Hot 8, and his generation of New Orleans musicians are the last best hope of our city. The Ellis Marsalis Center for Music is coming along, and will be part of helping children learn about their musical heritage. Efforts like that are inspiring.

For every rumor that Jazz is dying, the answer is that the city where Jazz was born is still alive. In the early days of Jazz it was considered a scandalous word and the music was sometimes advertised as Jos, but everyone knew what they were talking about. As an orphan of New Orleans, I invite you to take a belated 4th of July vacation and go hear our music. Overtip the bands. You can look back and tell your children you helped save Jazz or Jos or whatever it's called by then because there is always a chance to turn things around.

After all, the Orphans have won more games than any other high school team in the history of the United States.

There is one only one thing that has power completely, and that is love. Because when a man loves, he seeks no power, and therefore he has no power. I see only one hope for our country, and that is when white men and black men desiring neither power nor money but desiring only the good of their country, come together to work for it.

- Alan Paton
Cry the Beloved Country

Happy Fourth of July.