Holidays are strange now. Aside from Halloween, costumes of any sort are very limited out here in America.
There's nothing like New Orleans Fourth of July with the bicycle crew. Everyone wears their vintage cowboy regalia - I used to borrow Jeff's hippie vest and we would follow Bicycle Phil around town with friends like Rocketman Jimmy Descant. He's now in Colorado making rocket apartments. Deb and Gary from the Sophisticats have opened Sputnick Ranch on Magazine if anyone needs get cowboyed out in time for the next ride. Katrina ate our vintage bikes.
The first year after the Twin Towers fell there was talk of increased security in New Orleans' Fourth of July Parade. It was a somber feeling and we lined up to watch the floats start rolling with flags and ribbons on our bikes. A cop turned and blew his whistle, which we thought was a signal to back away from the lineup.
"Get in there," he said, waving the bicycle crew to the start of the parade. So we rolled down Decatur with crowds lined up waving little flags, and I was mortified to only have one pair of beads to throw. A feeling of inadequate beads known only to New Orleaneans.
Dressing up for Midsummer Mardi Gras as the Olympic Drinking Team
complete with routines . . .
dressing up for the inauguration, thousands marched . . .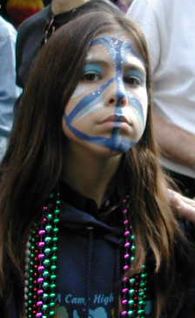 dressing up at the drop of a hat - it's important and I miss it.
Now we're out here in the amber waves of grain, with wind farms popping up across all the local fields. Energy independence is the only local theme I can think of this Independence Day. We've taken to dressing up the Lincoln statue. If there was a parade, I would try to come up with a wind turbine costume. If it was New Orleans I would work on a clogged up MR GO Canal costume. We saved our old costumes, just in case.
Last night was a fireworks show on a new friend's farm. It eventually turned into a kazoo, guitar and bongo jam so that helped me feel a little more at home. We talked a lot about New Orleans Musicians Relief Fund because we're now
that couple
at the party. And everyone's outfit was perfectly normal.