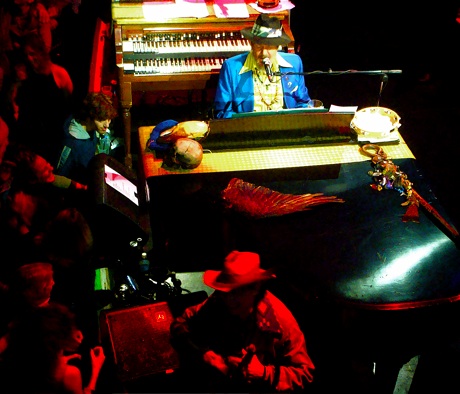 You know you've been to a great show when the drummer introduces the headliner for his encore as "One pissed off mother------."
At a hometown show last night, Dr. John summed up the conditions that the city's traditional culture is still reeling from. On his list of what's wrong? A squad of police cars showing up for a second line to arrest musicians. "They have to understand that this is a spiritual city," he said. Tootie Montana died at City Hall trying to get that across.
Big Chief Montana was complaining about the arrests of Mardi Gras Indians at the annual St. Joseph's Day gathering. He said "This has Got to Stop," had a heart attack and passed away. The Indians carried him out of City Hall singing I
ndian Red
.
Classics like
Indian Red, Iko Iko,
and the great Wardell Quezergue's
It Ain't My Fault
do something to your molecular structure when you've lived here long enough. All it takes is a few bars of:
Come kitty kitty come come, walk on gilded splinters . . .
And there you are in another trance staring at the skeleton on the piano.
Last night, Dr. John expounded for a good five minutes at the end of his show and noted that so many people, audience members included, were screwed over after the levee failure. He preaches it everywhere. Every show, every town.
How every level of government failed Katrina survivors, and the help still coming is from individuals. When he's talking to his hometown it's preaching to the choir, but it helps at least this choir member's healing.
A tireless supporter of the Gulf Coast, Dr. John has lent his voice to causes including restoring the wetlands, New Orleans Musicians Clinic and the
(New Orleans Musicians Relief Fund)
. He's become a friend.
In fine form, the Rev. Goat Carson played jawbone and at times waved his raven's wing over the crowd as a powerful symbol because, as he says, in the end the buzzard gets us all.
Dr. John and Goat wrote the new song,
My People Need a Second Line
that closed the show. If Dr. John's upcoming CD is as good as this song, he should have another Grammy coming.
A second concert is set for tonight (Saturday), 8 p.m. House of Blues, if you'd like to share in the pissedoffedness. Jon Cleary opens on solo piano.