The New Orleans Musicians Relief Fund is home, distributing instruments and catching up with loved ones for the holidays. Here are photos from the last 24 hours to let you know how the city, its music, the food and culture can embrace you:
* * * * *
Evenings at Snake & Jake's Christmas Club Lounge
, voted Sexiest Bar in America by Details Magazine, it's lit only by flattering Christmas lights all year long. This is your bartender, Miss Elaine. Snake's is the bar of choice for Anthony Bourdain, and Bourdain knows bars.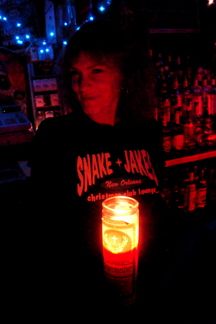 * * * * *
The French Quarter
is never not beautiful.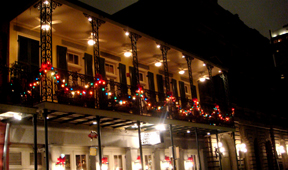 * * * * *
The Lights.
Red Light Districts, Green Light Districts, if you've got a light, we've got a district.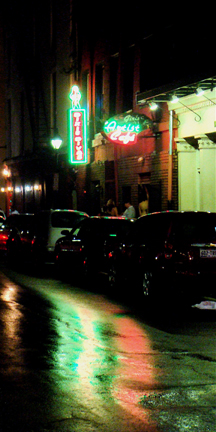 * * * * *
Lucky Dogs.
Or as the vendor was shouting, 'Genuine Katrina Hot Dogs!' It didn't sound appetizing but drew an interested crowd.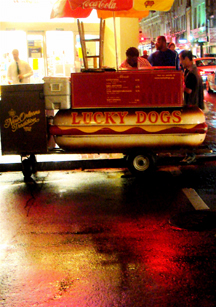 * * * * *
Hotel Monteleone's Carousel Bar
. It's a Bar. It's a Ride. You drink and slowly spin around the room, which enchanted Tennessee Williams and Truman Capote enough to make it into their literary work.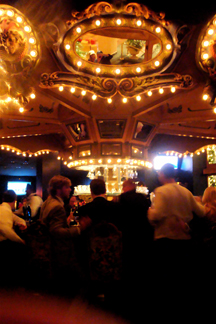 * * * * *
Chef Paul Prudhomme
blackened some of the first seafood, and is still creating masterpieces at K-Paul's Louisiana Kitchen.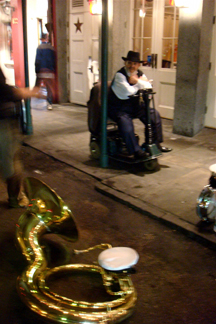 * * * * *
Back at Snake's, Santanista
Offers You His Protection.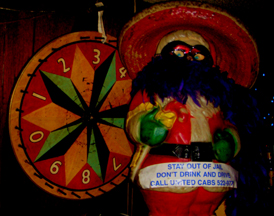 * * * * *
You never know who will show up.
This is guitar hero Jimmy Robinson of Twangorama, singer/songwriter Susan Cowsill, and a Cajun Santa at Carrolton Station.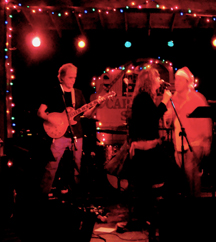 * * * * *
A Hip Daily Newspaper.
New Orleans Times Picayune's nola.com selection for photo of the day isn't a cute kid holding a puppy under the tree. It's the Christmas Club Lounge.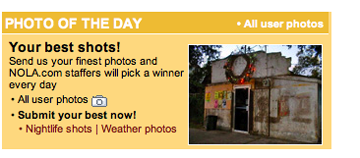 * * * * *
The Latter Public Library
on historic St. Charles Avenue hosted an Irwin Mayfield benefit with teen sensation Amanda Shaw, free and open to the public. Preservance Hall will be completed in 08, adding an expanded jazz district to our National Park System.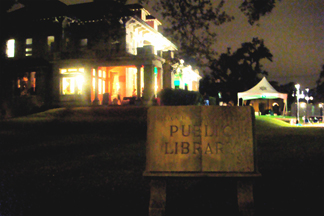 * * * * *
Unlimited Opportunities to Do Good.
This is the tent village under the interstate, as thousands of residents are now homeless. One of many shelters just outside the city houses dozens of families and half the residents are children. Their wish lists are modest, and Brad Pitt and Angelina Jolie have just held a press conference on the condition of
displaced children
.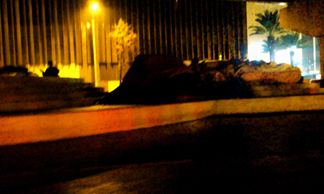 * * * * *
More Ways to Help
. Carnival Season, Festival Season, Midsummer Mardi Gras - each is a good reason to gear up at the French Quarter Save NOLA Shop. Merchandise benefits nonprofits including the
New Orleans Musicians Relief Fund
, Global Green and Make it Right. So come down and shop, gut, build, tip, spend, dance, eat and live.