Welcome to virtual New Orleans. It's a cool day, wild parrots are screeching in the back yard and we're waiting to see if it rains before heading to the racetrack.
Bob French
, proud owner of a Habitat for Humanity Musicians Village home, drummer for the longest running band in the city and the planet's most uncensored disc jockey on
WWOZ
is keeping listeners posted on Jazzfest weather. He says, "There will be no rain today," and his guest adds:
"You listen to some of these weathermen with their gloom and doom and they say, 'we're all going to be under water . . . well actually we were under water that one time so maybe they're right." Radio New Orleans at its finest.
Dr. John
is a must-see at 3:20. He's been working in new tracks from
The City That Care Forgot
, and based on a sneak preview over the holidays this one will make him the most uncensored musician in New Orleans when it debuts in June. We listened to hundreds of tracks to compile the
New Orleans Musicians Relief Fund
benefit
ReDefine 8/29
download and I thought I had my fill of post-Katrina songs. It turns out I haven't.
The "Turbinton's House" Tribute is this afternoon in the WWOZ Jazz Tent to honor Earl "The African Cowboy" Turbinton and his brother, Willie Tee, who both passed away within the last year. Too soon, and both very missed. Each New Orleans musician is distinctive enough to each leave a void that can never be filled, but each also mentors a new generation in a way that no other city offers. They gather in a rolling sideshow of bands as exemplified by
Paul Sanchez
and his Rolling Sideshow. Paul's former band Cowboy Mouth also plays today.
John Thomas Griffith
of Cowboy Mouth was in The Fate Brothers with NOMRF founder Jeff Beninato, and all these ties reinforce the sense that everyone you love is just up the festival track.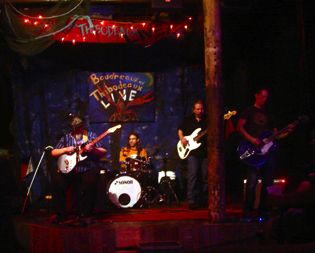 Jeff now plays bass with
Bryan Lee Lee and the Blues Power Band
. The Braille Blues Daddy mentored Kenny Wayne Shepard as a young prodigy, and Kenny Wayne will be playing the Fest next weekend. Bryan will rock the Rivershack tonight before heading to a festival in Germany. He's one of the many New Orleans musicians back on the road after losing a steady gig to the storm, and his
"Katrina Was Her Name"
is up for Best Contemporary Blues Album at next month's Handy Awards. But first it's off to Ingolstadt, fictional (hopefully) home of Mary Shelly's Frankenstein.
Back at the Jazz and Heritage Festival, the rain is finally coming down and Big Jay McNeely, a founder of rock and roll, is taking the stage. Known for leading strolls out of clubs and around the block, he was once arrested for disturbing the peace on one of his second lines. His band kept playing until he was bailed out, came back to the club and finished the song. In the '40s, Big Jay once crawled from home plate to first base on his back while playing sax in an LA stadium. His stage show made him one of Jimmy Hendrix' biggest influences, and eventually got him banned from LA. He introduced his track 3-D, available from the nomrf
Sax on the Web
download, with:
"When I was 21 I recorded this number. I'll be 81 on Tuesday, so here we go . . . "
Yesterday Robert Plant played "Fortune Teller" as Allen Toussaint beamed backstage. He also loaded up on swamp pop at the Louisiana Music Factory, as any good visitor should.
John Boutte
just stopped by the WWOZ tent to thank New Orleans visitors for supporting its music. He also described the challenge of bringing music to fans ready to let the good times roll, while waiting for the recovery of your home town.
"People are still dying from the devastation from the failure of the federal levees and they're dying in auto accidents trying to make it back home, they're dying from increased substance abuse, people are being thrown out of their homes, living in facilities, but yet here we are. We're still trying to make it through. Thank God we do have a little distraction, and thank the world for helping us."
John specifically thanked the Threadheads, a jazzfest supergroup, for funding his and Paul Sanchez' new cd, and closed with
"Showing Up for the Party"
:
"I'm showing up for the party so everyone can see. I'm showing up for the party, but I know it's not for me."